Bainbridge
Poulsbo
Kingston
Port Townsend
Sequim
Port Angeles


Free Mobile Guides for activities, services and information when visiting Olympic Peninsula Communities


Eat-Drink-Shop and its guides are operated by EAT DRINK SHOP, LLC of Poulsbo WA. All rights reserved ©2012 Eat Drink Shop. LLC
COUPONS - MAPS - GUIDES - COMMUNITY INFORMATION - PHOTOS - REVIEWS - RECOMMENDATIONS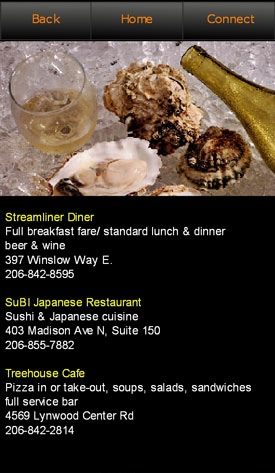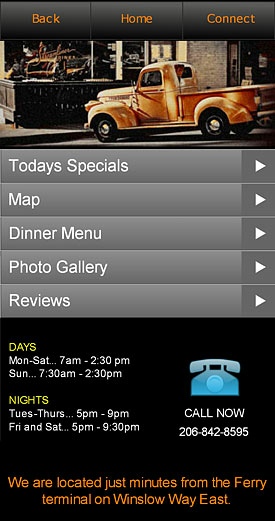 Listing your business is easy. Just click the buttons below to find out more about the various packages available from FREE to ENHANCED LISTING to FULL MOBILE SITE LISTING. Each package builds on the available options so you can tailor your business listing to suit your advertising budget.
$0
$35
$15
FREE LISTING
Free listing in your business category with your name, address and contact telephone number.

Add a coupon deal alongside your free listing for a one time fee of $35 (you can cancel the coupon validity at any time)
LIST MY BUSINESS

List your Business NOW!
Fill out our form to include your business for freein your local community
eat-drink-shop guide.
ENHANCED LISTING
Expand your listing with an image, larger business description, map function, one click call button and more.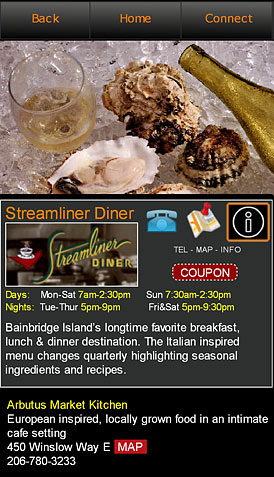 EXAMPLE COUPON
FULL MOBILE SITE LISTING
Expand your listing with a full Mobile Website.
We build out a multi page website which is then linked to your Enhanced Listing.
A special "client content page" allows postings of Todays Specials or other messages automatically via email. Simple to use. Ideal for posting fresh content whenever you like.
We even give you your own QR code linking to the Mobile site for you to use in print and other advertising promotions.

4 coupon deals are included at no charge for you to use at any time throughout the year. Any number of additional coupons are available at the discounted rate of $15 per coupon.
Mobile site updates/upgrades are NOT included and will be billed separately when changes are requested.
As new local guides come on-line promotional reach will be extended to included other Ferry Runs and local media.
The opportunity to tap into the mobile advertising market can not be over stated. Our aim is to be the #1 resource for community information for tourists and locals alike. With affordable mobile promotions and easy access to your business information the ROI is all but guaranteed.


Major Information categories are available for Sponsorship. Sponsorship buys enhanced listings at the top of each category page (for example a Travel related business might sponsor the Ferry Wait Times page) that can then link to your Full Mobile Site Listing or any other promotion or message.

Major Shopping sections include Real Estate with links to every property for sale that is currently using the QRREI.com service of Dedicated Mobile Listing Websites. Other property listings can be included so long as they conform to our "Mobile Website" specifications. Please call Kelvin on 360.394.3680 for more information on this special section.
Local Parks

Public restrooms

Free Wifi hotspots

Current weather forecast and tide timetable

Current Ferry Cam images of wait times in Seattle and Winslow

Ferry Schedule

Local Event list

City Service info and more...

all available to anyone with a Smartphone in their pocket.
Flyers placed aboard racks on WA state ferries operating between Seattle & Bainbridge provide information about the various site functions and how to access the site via QR code or direct web URL.
ADDITIONAL SINGLE PAGE
Expand your listing further with a single screen page linked to your enhanced listing with a "more info" button. This gives you extra space to get your marketing message across at just $5 extra per month.
Add a page for $5 pcm
2 coupon deals are included at no charge for you to use at any time throughout the year. Any number of additional coupon promotions are available at the discounted rate of $15 per coupon promotion.
Prices quoted are per month based upon a 12 month contract
Special community pages offer information and real time Maps on:

Sticker placed in strategic local business windows